Nowhere else in France will you find a castle with this neo-Tudor architecture that is so typically British! Located in the village of Condette, Hardelot Castle is an attraction in its own right. It houses the Franco-Britannic Cultural Centre (Centre Culturel de l'Entente Cordiale). With over 500 pieces from major French museums and movable heritage, the décor retraces Franco-British relations, century by century. There is a succession of tales and great historical facts. From tiles with patterns similar to those at the Houses of Parliament, to the pipe of Charles Dickens and tales of cross-Channel adventure, each item is part of this amazing story which stretches back to William the Conqueror.
Once upon a time
It was around 1870 that this little Windsor was born... Henry Guy, a British citizen and former officer in Her Majesty's army, purchased the ruins of a medieval castle and built a neo-Tudor castle as a country residence in its place. He lived there in great style for nearly 20 years with his wife and six children. When he passed away in 1898, the manor was bought by John Whitley, who was also British and a co-founder of the Hardelot resort! He started his golf course from one of the towers...
A happy revival
Under Whitley, all the British gentry came to Condette to enjoy lively parties. Successive wars did not get the better of this building. In 2009, after a long restoration campaign by the département, Hardelot Castle was renamed the Franco-Britannic Cultural Centre and opened its doors to the public with the aim of making known the history of the building and, through this, the history of Franco-British relations to the present day.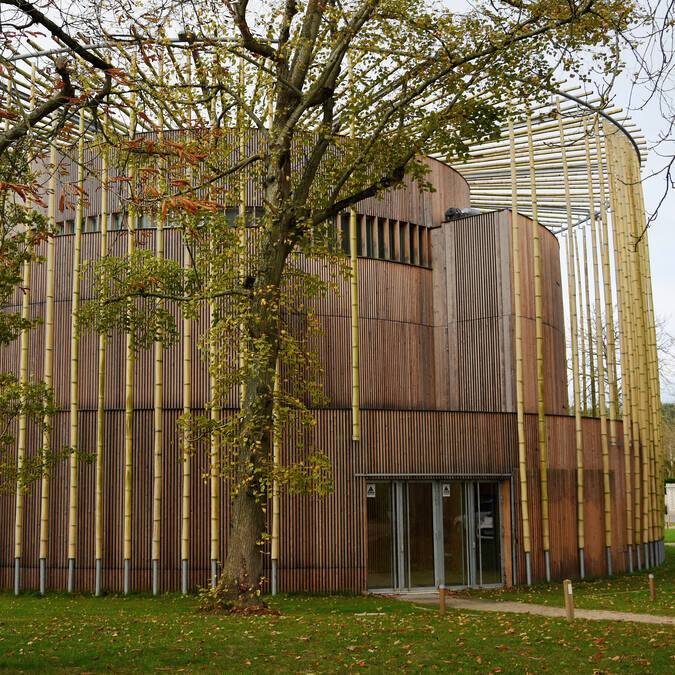 Culture in all its forms
As well as the magnificent items exhibited inside, don't miss the opportunity to visit the landscaped gardens where the green spaces tell their own story of the love-hate relationship between the two countries. The Elizabethan theatre opposite will also delight you. It was directly inspired by those built in England in the 16th century. It is a fine example of the genre, especially as it was built according to the rules of the style and integrates all the qualities of a theatre of the 21st century. The project was approved by the Queen of England herself!
A place to meet
Throughout the year, the site comes to life with various events such as the Medieval Spring, the Midsummer Festival and the Summer Season, not forgetting the Fairy Night. Good to know: A beautiful landscape of lush green stretches out at the foot of the estate. 44 hectares of marshland! Its name? The lake of mirrors…