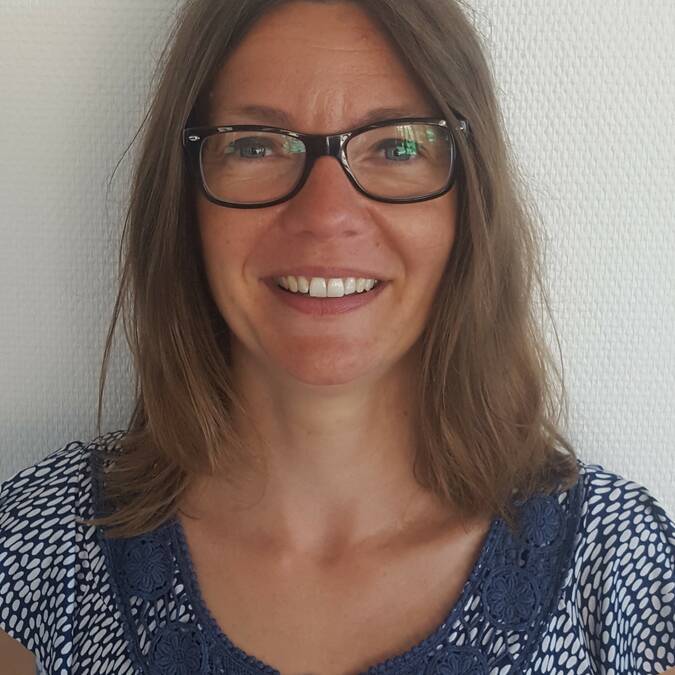 https://www.youtube.com/watch?v=fnwCfPUWuOg&feature=share
Camille Fourmaintraux, ceramic artist
Camille is a young artist from a famous family of ceramicists from Desvres. She is the 10th generation to practice the art! She was destined for a career in science, before she then retrained. 'The apple doesn't fall too far from the tree' as they say! Following a life-changing meeting with a teacher when she posed as a model, Camille received her degree from the School of Arts and Crafts in Arras in 2006 and opened her studio near Arras in the same year. In 2010, she returned back to her roots entirely by moving to one of her ancestor's studios in Rue Jean Jaurès in Desvres. Today, she can be found by the sea in Moulin Wibert, located between Wimereux and Boulogne-sur-Mer. Camille specialises in partially glazed stoneware, which has a particular malleability. Just as a reminder, fired clay is a technique for producing ceramics from clay or clay loam. It is used to create pottery and sculptures in stoneware, earthenware and porcelain. It is also used for the manufacture of building materials such as bricks and tiles. The clay is modelled to create the desired shape and then dried long enough for it to become hard. It then has its first firing at 980°C to obtain what is known as a 'biscuit' finish. The glaze is then traditionally applied using a brush, before a second firing at 1255°C. Camille uses two kilns - an electric one with maximum temperature accuracy for small items, and a gas kiln with a sensor for larger items where the firing is more random.
The artist depicts subjects from everyday life which she reinterprets into utilitarian and decorative objects of all kinds, as well as sculptures and unique pieces inspired by a dreamlike, humorous world. After working in an academic style at first, Camille very quickly moved to more figurative pieces so that she could express a plethora of emotions. Each of her female figures has a unique character and, I dare say, their own personality. Any art is open to improvement, so Camille is constantly improving by analysing, for example, the female form in order to make each feature as realistic as possible.
In order to add some diversity and not just create all the time, Camille also passes on her artistic expertise by giving classes on an individual basis by appointment, and by taking groups of adults and children for ceramic workshops. Camille's work has a wide audience, including people with disabilities, schoolchildren, college students and high school students. She also works with the prison in Longuenesse.
Come and meet Camille in her workshop located next to the SPA, classes available by appointment, groups for adults and children:
Moulin Wibert - 62930 Wimereux
Tel: +33 (0)6 83 16 74 07

Éric Brachet, wood turner, tool sharpener and knife grinder
Éric trained as an electrician, was a Project Manager for the Communauté d'Agglomération du Boulonnais and then for an engineering firm in Lille. He has always been interested in carpentry and marquetry. He has gained over 15 years' training in woodturning as a result of attending many training courses in his own time. After suffering burn out, he decided to improve his quality of life and embarked upon his new career by opening his own craft workshop. He now offers woodturning courses for beginners to improvers and can accommodate up to 5 people for a minimum of one day.
Éric's courses are special because they are flexible. You can enjoy five consecutive days together or split them over a longer period. He can adapt to the needs and requirements of each person. A gift voucher worth € 100, which equates to one day's training, means that you can treat your loved ones too. After just one day, you can take home your very own spinning top!
The skill is not just in the technique. Éric will teach you the correct posture to adopt when turning wood. The body and soul are inextricably intertwined when it comes to any creative act. Éric is passionate and bright-eyed about creating and teaching. He is constantly in search of meaning, and is always interested in discussing and sharing his expertise.
This craftsman creates dishes (bowls, salad bowls), decorative items (light fixtures, vases, candle holders, etc.) and a complete range of pens, jewellery and spools - not to mention the famous spinning tops - from 20 different types of wood. Taking on commissions is also part of his work, which he is always more than happy to do!
He refuses to be tempted into over-production, preferring a more sustainable and responsible approach. Éric never has a fixed idea of what the finished object will look like. He works from the raw material, using all its features, different characteristics, colours and irregularities to create an item which is unique and one of a kind - far from the uniformity found in mass produced goods.
A wide range of his products can be found in 'L'atelier d'Édorine', an interior décor and art craft shop which Éric's wife, Florence sets out beautifully each day thanks to her talent as a seamstress. The shop is located in the vaulted cellar of their 18th century house, which is also home to some delightful bed and breakfast rooms from where this green and peaceful haven can be enjoyed. You will also find a tool sharpening workshop here, which is unique for the Côte d'Opale, where you can rediscover the pleasure of a sharp cutting edge and of maintaining the longevity of a blade at an unbeatable price.
Address: 128 avenue de la forêt - 62360 LA CAPELLE LES BOULOGNE
Woodturning workshop, tool sharpening
Open Thursday, Friday, Saturday and Sunday from 2.00 pm to 7.00 pm. Other days are available by appointment. Woodturning workshops for beginners or improvers for a minimum of one day. Option of a gift voucher for a woodturning workshop.
Tel: +33 (0)6 99 15 89 46
Email: eric.brachet-tourneursurbois@orange.fr
L'atelier d'Édorine
Interior décor and art craft shop. Open Thursday, Wednesday, Saturday and Sunday from 2.00 pm to 7.00 pm.
Tel: +33 (0)6 14 28 06 05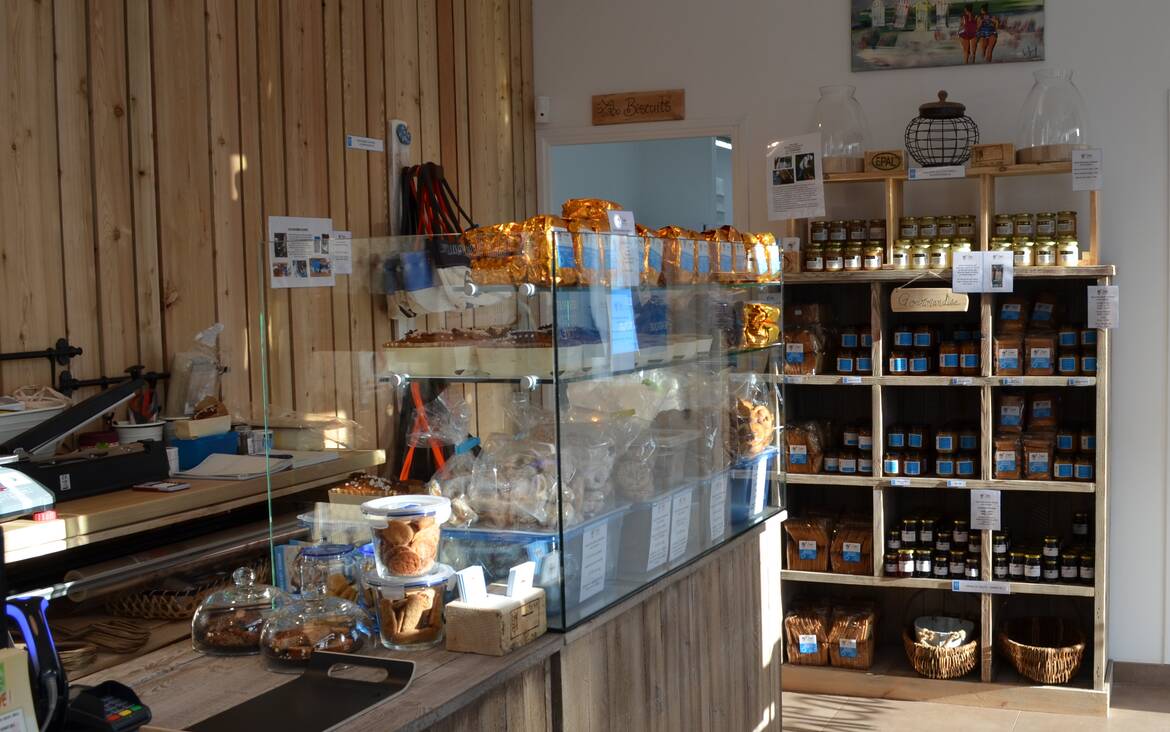 Sophie Farrugia, 'a creator of sweet treats'
This year, Sophie opened her shop in Wimereux which adjoins her factory where she creates sweet and savoury artisan biscuits. The factory meets the latest applicable food safety and hygiene standards such as accessibility for people with reduced mobility. Her team comprises five employees and she takes great care over selecting the raw ingredients, which are mainly regional, including the daily use of organic flour from the Moulin Waast in Mons-en-Pévèle. After all, if organic flour is available locally, you just have to use it! No preservatives, colours or additives are used. Dry yeast is considered the only essential. The manufacturing is mainly on demand to guarantee maximum taste and freshness. Sophie's sweet biscuits (speculaas, meringues, stuffed waffles, p'tits boulonnais or dry macaroons with almonds and hazelnuts, and ladyfingers, etc.) of which there about twenty varieties, instantly plunge you back into childhood and the flavours of teatime - just like the famous madeleine cake in Proust! The boxes are decorated with a painting of the seafront at Wimereux by the famous painter, Hugues. Again - the importance of the local area is apparent!
The savoury biscuits are a great accompaniment to aperitifs enjoyed together with the family or friends. A wide choice of croutons, toasts and crispbreads complete the range. In addition, complete control of the manufacturing process allows Sophie to remain as close as possible to her consumers and provide authentic products, manufactured with complete transparency.
Sophie adapts her recipes for all dietary requirements and offers biscuits which are free from certain allergens.
From time to time, Sophie leads afternoon workshops for children with the Audrey Bartier socio-cultural centre in Wimereux in particular, where simple treats such as cookies are made. She also joins forces with the Esprit du Vin wine cellar the second Thursday of each month at 6.30 pm at the gourmet delicatessen Saveurs & Découvertes, rue Carnot in Wimereux for an aperitif tasting. The factory itself is open in the morning from Monday to Friday for individuals and by appointment for groups (20 people maximum). Online shop and on-site sales, the shop is open Monday to Saturday from 9.00 am right through to 6 pm.
7 rue Jean-Marie Bourguignon - 62930 WIMEREUX
Tel: +33 (0)3 21 87 64 68
sophie@ptitsgateauxartisanaux.fr