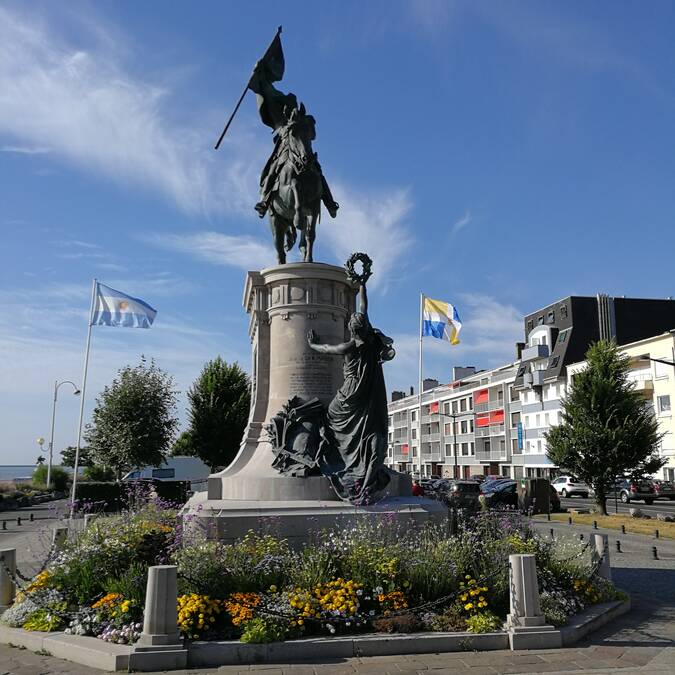 illustrates Boulogne-sur-Mer's and Argentina's shared history - a history which has lasted over a century.
San Martin is a national hero in Argentina, as well as a great figure in Boulogne! The statue of the Libertador can be found behind the seafront at Sainte-Beuve. And what a statue it is! Created in bronze with a stone pedestal, it depicts the Argentinian General carrying a flag and riding a trotting horse with 'La République' at his feet offering him a laurel crown. Several symbols of battle such as swords, canons and guns are depicted on the other side.
From Argentina to Boulogne-sur-Mer
San Martin liberated Argentina in 1816, Chile in 1817 and Peru in 1821 from the Spanish and is regarded as a real hero in South America. But why is he celebrated in Boulogne-sur-Mer? After having refused to take power in Argentina, San Martin left his native land with his family and set off for Europe in 1824. He lived for a time in Brussels, then moved to France. However, in 1848, he fled from the Paris riots and decided to leave for England. This is how he discovered Boulogne-sur-Mer.
Love at first sight
Whilst making the trip between Paris and London, San Martin fell ill. He was forced to stop at Boulogne-sur-Mer. He discovered a fashionable city and fell for its charms. He stayed for two years, until his death in 1850. He lodged at Grand-Rue with the lawyer and journalist, Adolphe Gérard. He loved to walk in the garden of Les Tintelleries, along the river Liane or follow in the footsteps of Napoleon, who he had fought in Spain.
An unbreakable connection
The idea of creating a tribute was formed on the initiative of some fellow countrymen who had visited Boulogne-sur-Mer. After a fund-raising campaign by subscription in both Paris and Buenos Aires, an 8.70 metre-high statue was created in nine months by the sculptor, Henri Allouard. It was unveiled on 24 October 1901 and today is still a subject of pilgrimage. Argentinians visiting France often stop off at Boulogne-sur-Mer to pay their respects to their hero.